There is no translation available.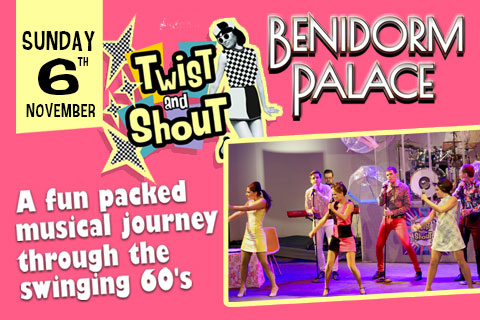 The Ultimate 60s night, 2 hours of non stop music from this musical show Twist and Shout, live at the Benidorm Palace on Sunday 6th November 2022.
Step back to the time when mini skirts, white patent boots, long hair and tight trousers where the norm with this live show that travels through the swinging sixties from the Beatles, Herman's Hermits, Gerry and The Pacemakers, Cilla, Lulu and Sandy Shaw to the 1970's and Flower Power with Mr Tambourine Man, I'm a believer, California Dreaming to name just a few.
An entertaining evening with a live 4 piece band, 6 member vocals, authentic costumes and choreography from the 60s.
Tickets are on sale now priced at 30€ with an optional meal available for just 8€ more.
To book click on the image above.