There is no translation available.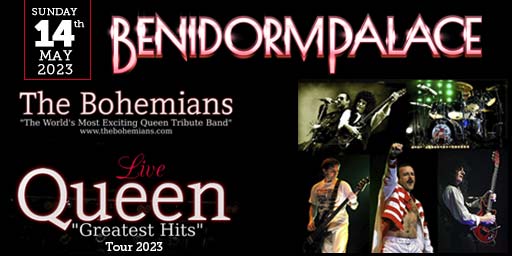 The Bohemians bring their live 2023 tour to Benidorm Palace on Sunday 14th May 2023.
Billed as the world's most exciting "Queen" tribute Band and rated as the best "Queen Tribute you will ever see" by the International Queen Fan Club, this two-hour tribute show, respectfully play and reproduces the back Catalogue of Queen Anthems.
The Bohemians have toured the U.K, China, Jordan, Switzerland, Holland, Belgium, Ireland, Ukraine and India performing in theatres, football stadiums and music festivals.
They have played support to Brain May and the Cross at the Queen Fan Club Freddie Mercury Birthday Party and headlined the International Queen Fan Club Conference as well as performing live with Brian May and the band in the audience.
A tribute not to be missed!
To book now just click on the image above.